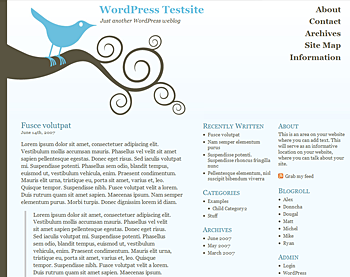 Today I am releasing my second theme for WordPress called "Bluebird". It's a blue and brown, three column theme designed for at least 1024×768 resolution. My first theme, Round and Round, has almost 500 downloads, which is a respectable number I guess, but I'm hoping I can beat that with this latest theme. I know to get a really large number of downloads I need to design one that's not quite so girly, so that will be my goal next time!
It will be on the WordPress theme viewer as soon as I can get it uploaded. They've had a bit of a problem over there, and have not allowed new theme designers to sign up easily to upload themes, so I'm again relying on the kindness of a friend to upload it for me. I'm interested in any comments you might have.
UPDATE: the Bluebird theme has been updated and moved to my themes site, DivaThemes.com – click on over for a demo and download.