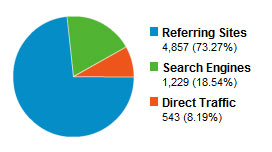 So, you've got a web site and you need a good stats program. If your hosting plan doesn't provide something like AWStats or Webalizer, or you just want to see some stats they don't provide, you'll likely look to one of the free services out there to analyze your traffic, but which one to choose? Wendy at EMoms@Home is running a second round of her "group research project" and asked for a post on how to choose and understand web analytics programs and since I've used most of the free ones I am taking the topic on from that angle.
Here are the major players in the free stats game, along with a brief review of each:
Statcounter – free service provides detailed stats on most recent 500 page loads. Easy to understand views of all major stats, including charts and graphs. The only big drawback is that the 500 page load limitation makes it very difficult to see any kind of aggregate data at the detail level, such as "how many visitors came from Google search last month?" It also does not show outbound links or file downloads. Various upgrade levels are available to increase the log file quota.
Google Analytics – free stats system offered by Google which provides highly detailed information, including charts and graphs. You can define the date range to look at aggregate info for any statistic. Nice features I haven't found with other stats programs include views of average time on site and pages per visit by referrer or keyword. They also have a "bounce rate" metric, which is the percentage of visits in which the person left your site from the entrance page. This system also wraps in Adwords campaign tracking.
PMetrics – this April, Performancing re-launched their stats system using the GetClicky platform and I was instantly sold on it. I was a long time Statcounter user, but was feeling the limitations as my traffic grew. It includes all the basics in an interface that makes it easy to get an "at a glance" view of your stats for any date range and you can even set it up to track your Feedburner stats without leaving PMetrics. There are some really nice features that come with the upgrade ($20/year) such as tracking of outgoing links, file downloads, and you can even subscribe via RSS to have a variety of stats sent to your reader at whatever interval you like. PMetrics has a page that compares their program to the "other guys" if you're interested. It's their chart so, take it with a grain of salt, but I found it to be mostly accurate.
Other options:
SiteMeter – pretty decent, similar to Statcounter in scope, but be wary as they have reportedly made a deal with a company that will leave cookies all over your visitors' computers, and can cause your site to load more slowly. I wrote a post about this back in April if you're interested in reading more. It was enough to cause me to write them off for good.
103Bees – highly focused on natural search engine traffic analytics. If you're particularly interested in where you're falling in the search engines for which keywords, check this one out. You can see how many hits you got from keywords where you ranked 1-10, 11-20, etc. and get a good view of "long tail" search terms.
CrazyEgg – this is one you should definitely try at least once. You can test different versions of your site, various ad placements, etc. It makes it easy to see who is clicking where and how often.
If you use WordPress there is a stats plugin that looks pretty good, though I have not tried it. It allows you to view your stats on a single page from your dashboard.
Other options include the MyBlogLog and Feedburner stats, though frankly, I don't know why you'd want to mess with that since there are more efficient and comprehensive options.
Which one to use?
That can depend on what your needs are at any given time:
Focusing on SEO and keyword rankings? Use 103Bees.
Want to see where the visitors are coming from that are clicking on your ads? Use Crazy Egg.
Want to know how long traffic from specific referrers are staying on your site? Use Google Analytics.
Need to know how many people are downloading your e-book? Use PMetrics Premium
Don't want to get too in depth, but just want a quick view of your visitors? Use Statcounter or WordPress Stats plugin
My conclusion:
I really think the best stats analysis is available by using a combination of PMetrics and Google Analytics. I get my day to day stats from PMetrics and at times drill down through Google Analytics. By the way, PMetrics has an affiliate program too, in which you can earn 20% commission from everyone who signs up for the premium service through your link (that's my link above). That's not why I'm recommending them- I'd do that either way, but it's a nice addition to their program.
Ok, I'm sure I missed something, so help us out by letting everyone know what stats program you use and why. Are there free ones I've missed that you think are better than the main ones I've mentioned? Disagree with my assessment of the options that are out there? Leave a comment!