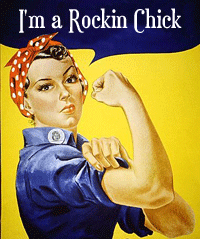 Char at Essential Keystrokes very kindly nominated me for a "Rockin' Chick Blogger" award. Sometimes on this side of the blogging world, we girls can feel as though we're in the minority. Oh sure, there are millions of Mommy Bloggers and I'm sort of one of them elsewhere, but on the business/tech/design side of things it's always a pleasant surprise when you find a new blog you really like that has a woman behind it. So, without further ado, I hereby nominate the following women for the Rockin' Chick blogger award:
Jennifer at Digital Design Cottage
Lisa at Just a Girl in the World
Natalie at Standards for Life
All three are great designers and interesting reads. They may or may not want to play along and nominate others for the award, but I hope they will at least be honored by the nomination!